Block Printing
An art form practiced in India since the 12th century, block printing can be simple or can involve many layers of color. After designs are carved from wooden blocks called "bunta," large pieces of fabric are prepared for printing and affixed to a tabletop. The carved blocks are then dipped into colorful dyes and stamped on the fabric, forming an intricate pattern that fills the entire sheet. Block printed fabric is characterized by small imperfections, stray ink or an overlap in the print, all charming reminders of the handiwork involved.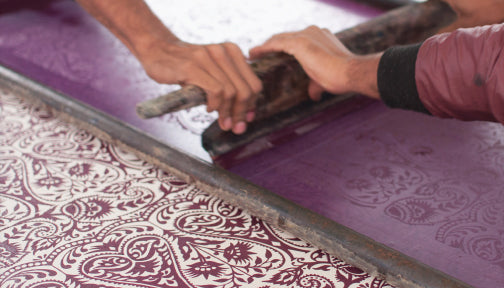 Screen Printing
Some of our partners do their own screen printing while others use local artisans, but they all practice the same general technique. A design is transferred to an emulsion-coated screen by exposing the screen to light, then fabric is secured to a tabletop. Ink is pushed through the screen with a squeegee to transfer the design onto the fabric, and the fabric is left outside to dry. As the fabric sheets can be quite large, the process often takes one person on either side of the table, passing the squeegee across and positioning the screen as they move.
Hand Embroidery
If you've ever noticed the embroidery on our dresses, you know the attention to detail that goes into each garment. One of our partners, Sadhna, is unique in that many members in rural areas are able to embroider from their homes or in small sewing circles in their communities. Blanket stitch, running stitch, feather stitch, french knots, and more – there are many different styles present in every collection!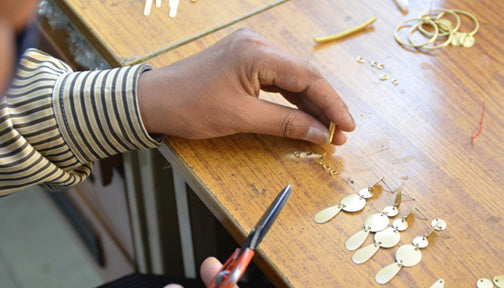 Jewelry Making
Our handmade jewelry collections are made using a variety of techniques and materials. Any metal pieces are brass, having been electroplated for a silver, gold, or copper tone finish. Pieces are either die-cut, soldered, or cast from a sculpted mold and then sanded and smoothed. Natural materials like wood, shell, bone, or raffia are typically carved or cut and finished by hand. Once all components have been formed, they're assembled by hand into necklaces, earrings, bracelets, and rings.
Fabrics
Our start with plain weave cotton has expanded to a selection of weights and fabrics created with various production methods. While much of our fabric is woven with power looms or commercially knit, we are sometimes able to include very special fabrics using handloom or hand dyed processes like ikat, a combination of hand dyed fibers and weaving that got its start in Southeastern Asia. The use of organic cotton, Tencel, and modal continues to grow as sustainability efforts improve.
In both screen printing and block printing, there can be complex additive and subtractive processes. Some of our prints are made by printing with a resist, dyeing the fabric, and then removing the resist to reveal the original fabric underneath. Printing with other agents and then steaming the fabric at high temperatures creates other effects that can be layered with colors on top.
Ethical Fashion, Made Fair Trade
While the processes described above certainly fall into the often romanticized idea of "handmade," we also want to highlight that the many hands involved in garment making do not start or stop there. Our apparel, like all apparel, passes through many people before finding its home in a closet.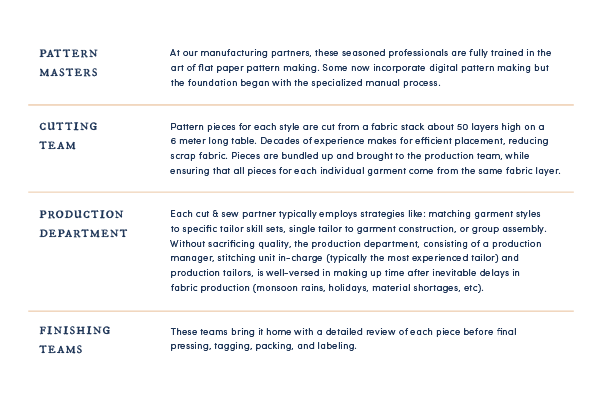 Learn more about the fair trade organizations responsible for creating our handcrafted jewelry and apparel.

WHO MAKES MATA >